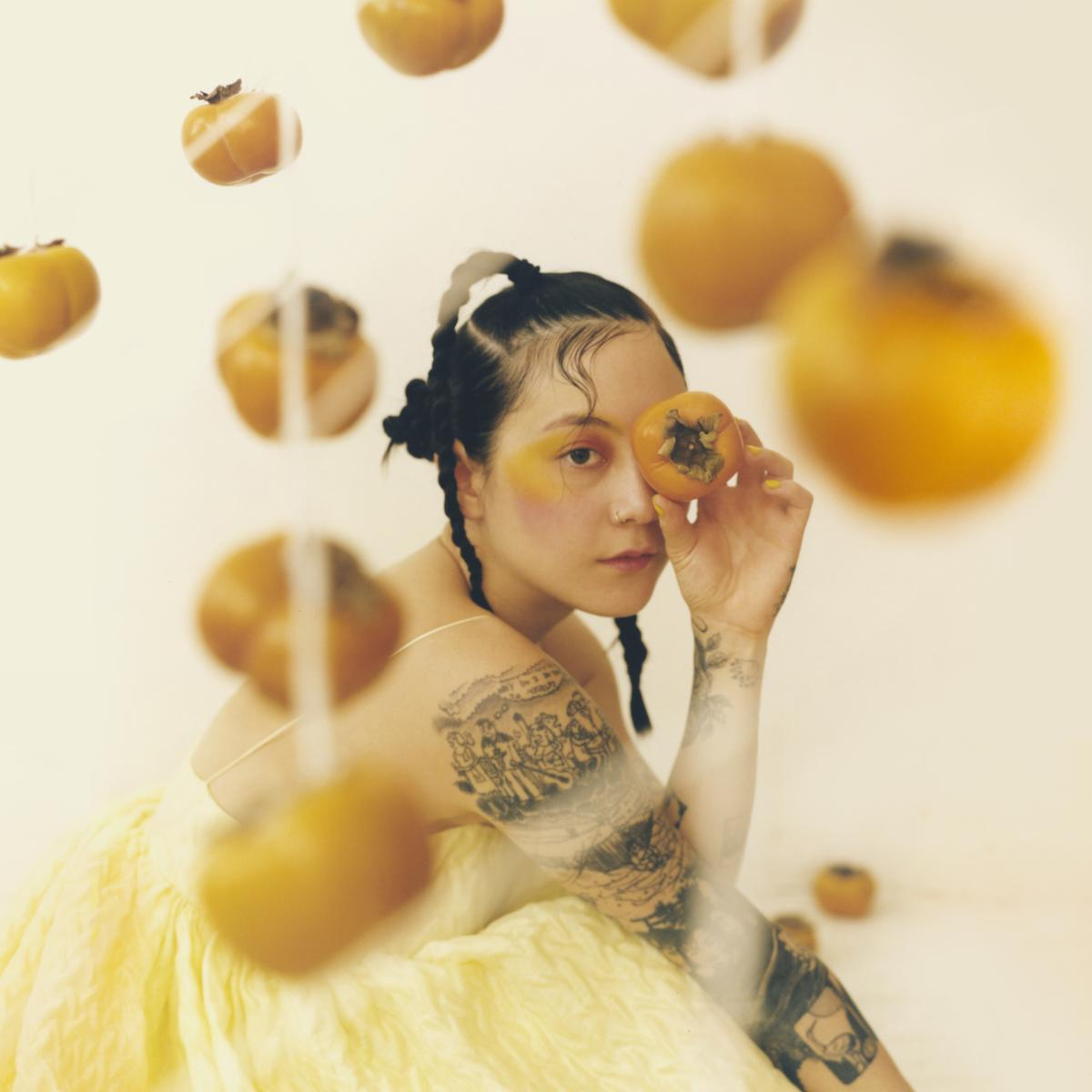 Jubilee is Japanese Breakfast, (a.k.a. Michelle Zauner … and her band's), 3rd album. I've never got my head around is it a band or is an artist but from now on I will refer to Japanese Breakfast as 'her' as Zauner is clearly the driving creative force behind Japanese Breakfast.
I nearly chose her 2nd album, 'Soft sounds from another planet' as album of the month back in 2017. If I had, you guys would have said 'it's ok … but it's nothing special' and I probably would have never considered double dipping and choosing her again. So all in all, I am glad I didn't and I get the chance to introduce you to Jubilee instead. Soft Sounds was a solid, consistent 12 tracks of shoegazey niceness with occasional flourishes that caught you by surprise but were soon gone. Jubilee is almost the exact opposite. On Jubilee, the flourishes are to the fore, the melancholia is still there but it's wearing better clothes and it has adopted a few new personas. It's a brighter, poppier, classier affair with massive mainstream chops but don't assume that's it's all surface.
For those that don't know, much of Zauner's creative career has been defined by her relationship with and the loss of her mother. Her music was and still is deeply touched by this experience. Her book 'Crying in H Mart: A Memoir' is a deeply personal reflection on the pain of growing up, losing her mother and … Korean food. It made no.2 in the NY Times Non Fiction Bestseller List in April 2021. The fact that this album is called Jubilee is massive. It points the way and hints at what to expect and represents a significant metamorphosis, musically and seemingly personally for Japanese Breakfast. There is a 40 minute podcast interview with Michelle Zauner by actor Minnie Driver that I would strongly recommend listening to that explores this in much mored detail and with a very delicate touch – https://open.spotify.com/episode/3LWPCfflisFbPsQqdvRBtd – be warned, I found it very moving but I do think it frames the album beautifully.
Back to the music, Jubilee is a 10 track, 37 minute album. Thank you Michelle. Great start.
Paprika, the opening track literally marches in, heralding the opening of the album with military snares and heralding horns. It's a proud statement of arrival, perhaps of re-birth following her loss and grieving process? Perhaps I am reading too much into that but it seems beyond coincidence.
Lyrically the album is SOOOO strong and Paprika has some of my favourite lyrics;
'How's it feel to be at the center of magic
To linger in tones and words?
I opened the floodgates and found no water, no current, no river, no rush
How's it feel to stand at the height of your powers
To captivate every heart?
Projecting your visions to strangers who feel it, who listen, who linger on every word'
Through the remaining 9 tracks Zauner introduces us to Synth-Pop, British sounding 90's Indie (Belle and Sebastian, perhaps even Camera Obscura?), haunting stadium ready ballads and even a nod to her shoegazing back catalogue. It would have been easy for the variety of styles and influences to result in a messy, patchy album. However, this isn't the case. There is a thread, a spine running through the tight running time and I think perfect track sequencing. For me, the thread or spine is the genuine emotion, the feels, that drive each track. I believe every word and I feel every note. The brighter, poppier uptempo tracks are some of the most emotionally and significant. That significance comes from top notch, classy song writing.
For this 1st time ever, I feel strongly enough about each song to want to walk through the nine tracks that follow Paprika one by one;
Track 2 'Be Sweet' is pure pop perfection. One of the strongest tracks by any artist this year. It was my entry point into the album when it was released back in February. It was on a long list that I created with Guy and should have been my selection when we chose tracks for each other a few months ago. It's a bit 80's, it's a bit cool, it's lyrically intelligent and I love that propulsive bass driving the track forward.
Track 3 'Kokomo, IN' trades, funky 80's pop for 90's British indie. An acoustic guitar gives way to harsh string plucks and then to dramatic sweeping string accompaniment. It's melodramatic, moody and most definitely 'pretty'. It's sits next to 'Be Sweet' perfectly despite it's decade-difference in reference points.
Track 4 'Slide Tackle' has been highlighted as one of the weaker tracks in a few reviews … I don't get it. It's one of my favourite tracks. It opens like a track from Twin Shadow's debut album. It's as if 'Be Sweet' and 'Kokomo, IN' had a baby together … and that baby played the saxophone?
Track 5 'Posing in Bondage' surprise surprise, Joey love's the dark one about death. I think this is a beautiful track. It's the first down-tempo, ballard (ish) track. Spending some time with the album's lyrics reveals, surprisingly, that there are a lot less lyrics than you might think! When written down, the lyrics look sparse but when woven into the fabric of the track they take on heft, Posing In Bondage is a great example of this in action and one of my favourite tracks. The killer line for me in this track is much discussed in the Minnie Driver podcast …
'When the world divides into two people
Those who have felt pain and those who have yet to'
Track 6 'Sit' considering that Zauner is often described as a shoegaze artist, there isn't a lot of it on this album. The exception is 'Sit'. It's got a droney, fuzzy guitar that sits (pardon the pun) just behind a very non-shoegazey vocal that sits higher in the mix than you'd expect. Its not a standout track but I think mostly because it's on such a strong album. I'm in no way offended by it and enjoy it as a simpler pleasure.
Track 7 'Savage Good Boy' … and we're back to brighter, poppier sounds and melodies. It's a well humoured, gender-role subverting, piece of perfect pop that is hard to ignore. It show cases Zauner's ability to tell complex stories, simply and with impact.
'I want to make the money 'til there's no more to be made
And we will be so wealthy I'm absolved from questioning
That all my bad behaviour was just a necessary strain
They're the stakes in the race to win'
It's hard to think of catchier song about mankind driving itself into the apocalypse. If you can think of one please let me know.
Track 8 'Hell' – another track that focuses on the theme of loss but done with beautiful pop melodies, lovely backing vocals, Bontempi-like synth flourishes and a big dose of horns. It flies by in two and half minutes but the oddly Morrissey-esque lyrics stick in the mind for much longer.
Track 9 – 'Tactics' – Zauner is at her vocally-breathiest, over a string driven, charismatic track. The opening swoon of strings should come as a surprise given the orchestration of the rest of the album but it doesn't. Once again, the fluidity of the album's movement from style to style is impressive. I assume this to be a big old lovesick love song to her husband and quite beautiful it is too.
Track 10 – 'Posing for Cars' – If Paprika was a literal fanfare to start the album, then Posing for Cars is a definite 'farewell wave goodbye' to close and highlights the perfect sequencing of tracks on this album. It is a well considered finale that builds and grows in a stadium rock stylee, the first nearly 3 mins being free of percussion. But as the song grows it introduces strings, bass guitar and finally a screeching lead guitar solo that feels odd and perfectly in keeping all at the same time. The track is double the length of most of the tracks and for me closes out the album perfectly.
The critical response to this album has been largely very positive with a MetaCritic score of 88% with plenty of 100% reviews. Whilst I don't think it's perfect, I do think it is special. It's very easy to consume and connect with. Its available on many levels. It can be background music, music to work to but I think best consumed when you can give it the attention that I think it deserves. I would be very surprised if I end up listening to any other album as much as this. This will feature highly in my 2021 top 10.