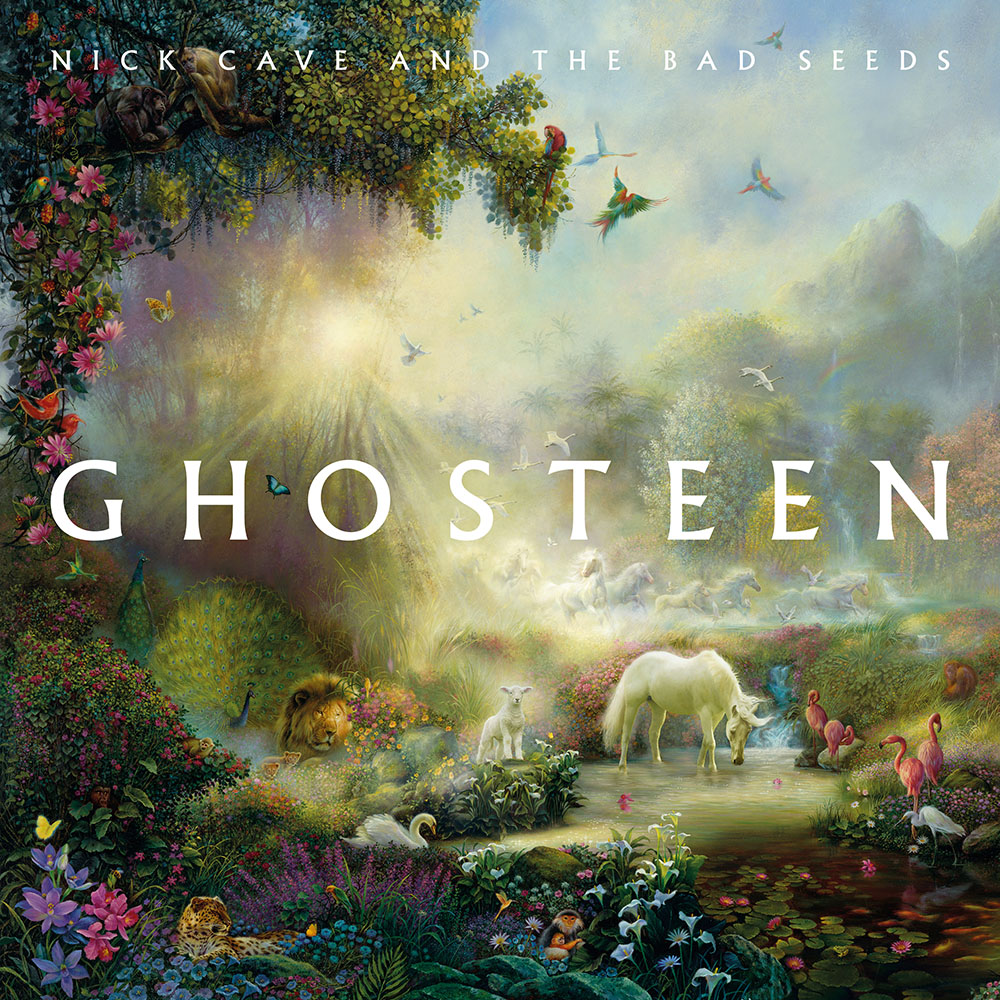 I genuinely don't really know where to start with this one. First, I guess I should start with an apology. I know what it feels like to have an AOTM chosen that you know will be an effort for you. David, I am sorry. However, I have not chosen this because I am a huge Nick Cave fan. I have a passing knowledge of his music acquired some from of my previous (intense but failed) relationships. I have only ever bought one other Nick Cave album, Dig, Lazarus Dig from 2008. Bought on the strength of reviews, loved at the time but rarely played since.
What I do love about Nick Cave is his undeniably prolific creative output. I think this is his 17th studio album with Bad Seeds, add to that Grinderman and other side projects, soundtracks, screen plays, acting roles, exhibitions etc. This can be seen as self indulgent or it can be viewed more favourably as an endless stream of creativity. A stream that stopped a couple of years ago.
I don't read too much music press if I am honest. I didn't know about the loss of his teenage Son Arthur until the release of Ghosteen. I approached the album with some trepidation. I didn't know what to expect and listened mostly without reading reviews in any detail. When you listen you are going to have to make a decision to give this a go or not. I hope you go with it. What you will find is a double album (double sorry David). The 2nd album contains two 12 minute songs (triple sorry David). As AOTM 'asks' go, this is a big one.
What first struck me is the 'soundscape'. I never know if 'soundscape' is the right word. If it were a film it would be the 'mise en scene' so what ever the music equivalent of that is, that's what I mean. Rich textured, chesty, vibrating analogue synths, strings, choral, gospel tinged backing vocals, piano's and that voice. No matter what you think of Nick Cave, his voice is fucking incredible. It feels like his career to date, he's been practicing to sing these lyrics and these songs. The first CD/side of the album is formed of 3-6 minute, beautiful and relatively conventional tracks. The 2nd and 3rd tracks, 'Bright Horses' and 'Waiting for You' are undeniably beautiful ballads. I think they will act as 'anchor' tracks that you will find yourself falling for on repeated listens. They are the most conventional and identifiable tracks and feature some achingly beautiful lyrics.
'He's the little white shape dancing at the end of the hall / the wish that time couldn't dissolve'
And for me, this line, is a beautiful example of what I love about this album. 'Arthur' is never named. The word 'death' never appears. Neither does 'grief'. Nor 'loss'. There is close to no use of the past tense. The album revolves around the positivity and hope of the present and future tenses.
This album is not about loss. It is about permanence.
It is about the power of love and of memory. It makes me feel that there can be beauty found in the deepest tragedy which somehow makes me feel more connected with the things that I love the most.
Before Sammy was born we called him 'Wolfgang' it stuck so much we considered it for real. It feels like 'Ghosteen' is used in a similar manner by the Cave family on the other side of the life continuum. 'There is nothing wrong with loving something that you can't hold in your hand'
Back to the 'ask' – David, CD 2 will be a challenge for you. I'll just call that now. I do urge you to give it a go though. I have these tracks play continuously CD1 and CD2 without interruption and feel this is the best experience. Nick Cave talks about the CD2's tracks being the 'parent' tracks, they were written first and spawned the 'children', the tracks found on CD1. This only really makes sense when you become deeply familiar with the music. I hope this is somewhere that you get with this beautiful music.
'I am beside you, look for me'